It is now possible to place an order for my book 'Reappraising the Seicento: Composition, Dissemination, Asslimilation' of which I am both a joint editor and contributor.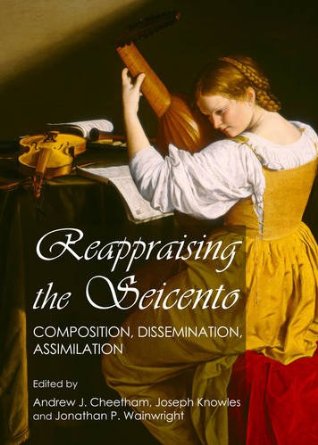 Reappraising the seicento presents new perspectives on some relatively well-researched areas of music history and adumbrates some more arcane aspects of the period, offered by fledgling scholars and early career researchers in the field of musicology. The scope of the title has the potential to warrant a tome on the subject, but it is not the intention to provide a comprehensive survey of music in the seventeenth century. Instead, five essays are presented, divided into two sections, which represent the research activities of young scholars with an interest in the seicento.
In the first part of this book compositional procedure in seicento Italy is examined through two different analytical procedures. Musical styles and fashions changed considerably throughout Europe in the seventeenth century; at the forefront of these changes were Italian composers and performers, who found fame and influence in their native countries as well as abroad.
In the second part of this book the dissemination of Italian music in seventeenth-century England and the appropriation and assimilation of contemporary Italian compositional techniques by English composers are considered. The phenomenal interest shown in Italian music by English patrons and musicians of the seventeenth century is placed into context and is revealed to be part of a larger historical trend.
It is available on amazon.co.uk via this link: http://www.amazon.co.uk/dp/1443855294/